Latest News
FIRST WORLD WAR CENTENARY EXHIBITION
Monday, Nov 3, 2014 12:53 pm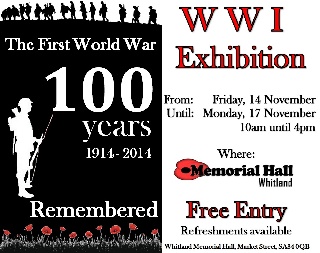 Led by the Imperial War Museum in London, during 2014 through to 2018 there will be events all over the world marking the Centenary of the First World War. The Whitland and Llanboidy Branch of the British Legion with the Town Council, ATC and Memorial Hall are spearheading the organisation of local events during these 4 years.

Following on the two events which took place earlier in 2014 (Armed Forces Day Parade in June and a First World War Centenary Commemoration Service in August) there will be another event in November, an exhibition on the Centenary of the First World War.

The exhibition will be preceded on the previous weekend by the wreath-laying ceremony at the War Memorial in the Whitland Memorial Hall (Market Street, Whitland, SA34 0QB) on Sunday 9th November at 10am. This ceremony will be followed by a Remembrance Service in the church in Llanboidy, which starts at 10:55am.

The First World War Centenary exhibition will be open to the public from Friday 14th until Monday 17th November (10am until 4pm daily). It will include work from Ysgol Llys Hywel pupils and Dyffryn Taf School Year 9 History students, who carried out research on many of the names listed in the local war memorials. The Llanfallteg History Society will also present some of their work and there will be several insights into personal stories linked to the area.

Entry to the exhibition is FREE and refreshments will be available.

For more details, see the Whitland Memorial Hall website www.whitlandmemorialhall.co.uk, facebook page or ring (01994) 448701 and leave a message.


No comments posted...

Tuesday - Apr 10, 2018 10:53 am
Wednesday - Jan 24, 2018 12:31 pm
We are in the process of having our website re-designed and updated
Read more...