Regular Events
(see below for details for the different groups)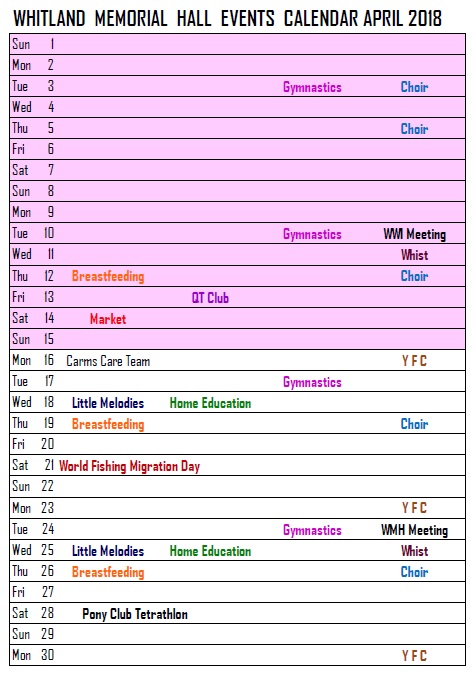 Special Events
WORLD FISH MIGRATION DAY:
To mark World Fish Migration Day there will be a couple of presentations to local angling groups and anybody else who might be interested on Saturday, April the 21st in the Whitland Memorial Hall organised by the Salmon & Trout Conservation Cymru. For more information please contact Richard Garner Williams (07809056152 or wales@salmon-trout.org)
2018 STRAWBERRY CREAM TEAS
Saturday, 7 July – 3 until 5pm
FIRST WORLD WAR CENTENARY EXHIBITION
November 2018
To mark the end of the commemorations of the Centenary of the First World War there will be an exhibition in November in the Whitland Memorial Hall. If you have any memorabilia relevant to this period please get in touch. Already involved in its organisatioin are the Whitland Memorial Hall, Whitland Town Council, Whitland and Llanboidy Branch of the Royal British Legion, Dyffryn Taf and Ysgol Llys Hywel Schools and members of the community. If you would like to be involved in anyway please do let us know by leaving a message on 01994 448701, email info@whitlandmemorialhall.co.uk, send a message on facebook (Whitland Memorial Hall page) or even dropping us a line through the letter box in the Hall.
Whitland Y.F.C.
Monday - from 7pm
For further information on meetings, etc. please contact ................................ (info to come..... sorry).
Every Tuesday – 4 to 7 pm
HEAVEN DANCE ACADEMY - Teaching Gymnastics (non-competitive), Acro /Rythmic training, all forms of dance (Street, Freestyle Disco, Lyrical, Contemporary, Rock-n-Roll, Ballet and Commercial. Classes held in Whitland and Swansea. For information on these classes please contact Carima on 07552640953 (UKA/ADFP registered, fully qualified since 1996, fully insured and CRB enhanced checked every 2 years).
Weekly Wednesday Sessions - 10:15am to 11:30am
Fun and energetic Music and Movement Sessions, aimed at pre-school age but there is no age limit. So, if you and your little ones enjoy music and dance why not give it a go? Contact Amanda Davies on 07870459502 or 01834871441, email MyLittleMelodies@gmail.com, visit www.littlemelodies.co.uk or look them up on facebook.
Weekly Wednesday Sessions - 12:30pm to 16:30pm
Every 2nd and 4th of each month in the Memorial Hall.
WHITLAND BUMP, BREASTFEEDING AND BEYOND GROUP
:
Every Thursday - 10:30am to 12:30 pm
If you are expecting a baby, just had a baby or need BF support, get in touch and we can at the very least signpost you to effective support. Joint the group to meet mothers who are pregnant, breastfeeding, mixed feeding, etc. ALL VERY WELCOME (mothers, partners, babies, toddlers, children, grandparents, friends and pregnant women!). On the 1st Thursday of the month there is a Baby Massage session and on the 2nd Thursday the Health Visitor joins the group for professional advice and support.
WHITLAND AND DISTRICT MALE CHOIR:
Always looking for new choristers and welcomes any prospective members to call in on that day.
Contact Hugh Lewis (01994 240437).
Fortnightly on Friday – 2 until 4pm
QT Club offers support to individuals whose lives have been affected by dementia related conditions. Membership is free and no pre-registration is required; open to all those with dementia related illnesses, carers and families. Transport can be provided by the QT Club for those with a dementia related illness who no longer have their own transport, or a licence to drive, in the form of a free bus service within Taf area: St. Clears, Bancyfelin, Meidrim, Laugharne and Whitland. Refreshments and entertainment are available free at all meetings.
---

Tuesday - Apr 10, 2018 10:53 am
Wednesday - Jan 24, 2018 12:31 pm
We are in the process of having our website re-designed and updated
Read more...