Latest News
All the breast from Y Cwtch Llaeth!
Monday, Sep 12, 2016 3:46 pm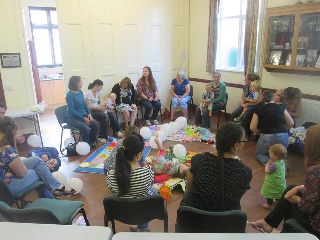 On Thursday 15th September Y Cwtch Llaeth is celebrating their 2nd Anniversary with cake and refreshments in Whitland Memorial Hall, 10.30 to 12.30!
Please come and join in whether you are a current member, have visited the group before and fancy a catch up, if you are a breastfeeding mum or are pregnant and looking for advice and skilled support from Kal Black, the group's experienced and highly skilled breastfeeding counsellor.
Y Cwtch Llaeth is a community run breastfeeding support group based in Whitland, held every Thursday in Whitland Memorial Hall, 10.30 to 12.30 with the aim of providing essential skilled support to all breastfeeding mothers within the community of Carmarthenshire, Pembrokeshire and Ceredigion.
Primarily the group aims to offer support to mothers who are pregnant, breastfeeding, mixed feeding, giving up breastfeeding or who have recently given up breastfeeding. No mother is turned away, regardless of how she feeds her baby.
Kal Black comments "Breastfeeding is a skill that mothers and babies learn together. They need time, practice and support to make it happen. Most of all they need the company of other women who have learned and are still learning the same skill - to share tips, stories, the tough times and their celebrations with."
Coinciding with the celebrations there will be a Clothes and Toy Swap, anything baby, child, and maternity related, there is a £5 fee to partake in the swap & take away whatever you like. This is a fundraising opportunity as the group is run by volunteers but is urgently seeking support to keep this vital support group operating in the locality.
For further information see the Facebook page
Contact Kal 01545 580559

Tuesday - Apr 10, 2018 10:53 am
Wednesday - Jan 24, 2018 12:31 pm
We are in the process of having our website re-designed and updated
Read more...