Latest News
ARMED FORCES DAY
Monday, Jun 30, 2014 5:05 pm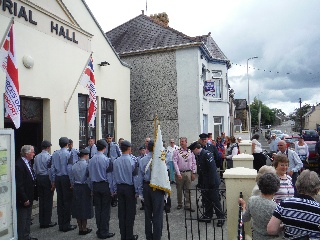 Whitland joined the thousands of people across the UK celebrating the men and women of the Armed Forces community, past and present. To mark the sixth annual Armed Forces Day (28 June 2014) the Whitland 2420 (Whitland & District) Squadron Air Training Corps convened at the Whitland Memorial Hall where they were joined by members of the public as well as representatives from the Whitland Town Council led by the Whitland Mayor (Cllr. N. Jenkins), Whitland and Llanboidy Branch of the British Legion, Llanboidy Community Council, Henllanfallteg Community Council, County Councillor S. Allen, Whitland and Narberth Rotary Club and Whitland Memorial Hall. After some welcome words from the Mayor, Rev. Huw George said a few words about the role of the Armed Forces and also mentioned that it was on this day in 1914 that Archduke Franz Ferdinand of Austria and his wife Sophie are shot to death by a Bosnian Serb nationalist during an official visit to the Bosnian capital of Sarajevo. The killings sparked a chain of events that led to the outbreak of World War I by early August. It took exactly five years to the day after Franz Ferdinand's death, for Germany and the Allied Powers to sign the Treaty of Versailles, officially marking the end of World War I.
After the salute to the Armed Forces Day flags everyone joined in a parade to the ATC Squadron Headquarters. Here the more relaxed part of the day's programme took place with the Cadets and Civilian Committee hosting an Open Day and BBQ. We would like to thank the Whitland ATC Squadron for organising such a pleasant day and everyone who attended.
No comments posted...

Tuesday - Apr 10, 2018 10:53 am
Wednesday - Jan 24, 2018 12:31 pm
We are in the process of having our website re-designed and updated
Read more...